Covering state lawmakers, bills, and policy emerging from Jefferson City.
Proposed State Budget Gives More to K-12, Cuts from Higher Ed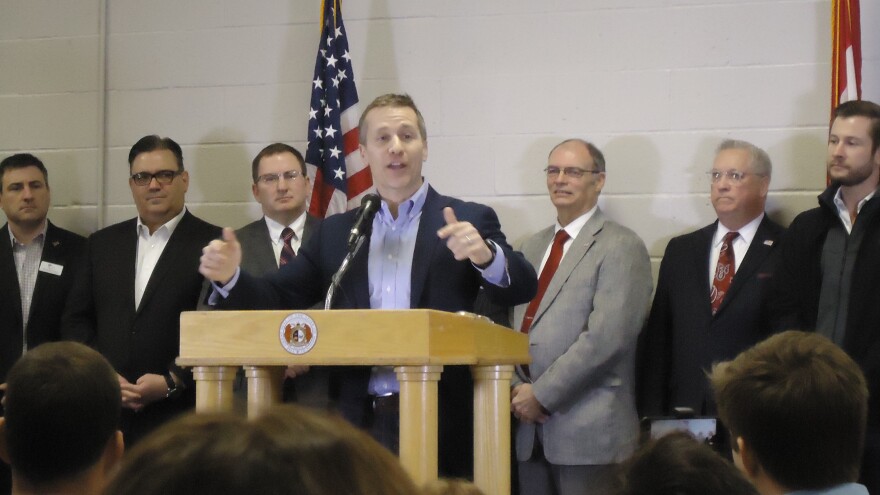 Missouri Gov. Eric Greitens' proposed budget invests more in K-12 education while slashing hundreds of million in other areas.
The first budget for the newly sworn-in Republican governor was unveiled before a crowd at the Early Childhood Center in Nixa, where he pledged $5.95 billion in revenue for elementary and secondary education.
"There will be more money through gaming funds, federal funds and state funds into K-12 education. It's a total increase of 4.1 percent," said Greitens.
The budget is the people's money, Greitens said, explaining why he made the announcement at the southwest Missouri school rather than to a joint session of the legislature.
"We wanted to come out to present our budget to the people of Missouri, because this is their money being spent."
The budget includes $3.3 billion for the school foundation formula, $3 million over the previous year. But it does include $31 million in proposed cuts to education transportation appropriations.
Greitens says he's dedicating millions to the state's vulnerable children, including $13 million to the High Need Fund that covers special education services to students with disabilities, as well as $1.8 million to help Missouri's 13,000 in foster care find "good, quality, permanent homes."
The Fiscal Year 2018 budget makes more than $572 million in cuts across state government and reduces the state's workforce by 188 positions, according to the Greitens' budget summary. The governor says the state has suffered from poor economic growth, drained by special interest tax credits and Obamacare. He says Missouri spends over $9 billion on healthcare each year, and those costs are only going up.
"K-12 education, state universities, correction systems, the justice system; all of that combined doesn't even add up to what we're spending on healthcare," said Greitens.
The biggest budget reductions impact higher education, which in the governor's proposal shows $116 million less in general revenue, and a total reduction of $159 million. The governor noted that over the past four years, higher education has received a total increase of over $100 million.
"So I'm confident that this year they can tighten their belts, just like the rest of us, and help us focus on excellence and get back to basics."
And he believes it can be done without raising tuition, which is being considered by many school leaders since learning of the pending cuts last month.
"I don't think our students should be made to pay for the mistakes of past politicians and the promises they made mismanaging the budget."
Greitens is referring to a more than $700 million budget shortfall, which last month prompted the governor to withhold $146 million for the current fiscal year. The remaining $572 million in cuts for FY 2018 would aim to cover the remaining gap.
Dr. Hal Hidgon, chancellor of Ozarks Technical Community College in Springfield, told KSMU that despite the governor's wishes, higher education has already made efforts to limit expenditures.
"We've already adjusted to major cuts. And while there has been increases over the last four years there's been major decreases over the last 10 years."
He continued, "Fact is students across the state will have to pay more in tuition because Missouri's 47th in higher ed funding, so we're already a very lowly-funded state. So when there's further cuts it will mean an increase in tuition."
OTC is already weathering $1.1 million in withholds in its current operating budget due to last month's restrictions. At Missouri State University, the school was dealt a $6.3 reduction in January. President Clif Smart had hinted at a tuition hike should Greitens' FY 2018 budget significantly hamper higher education.
"I felt bad for our higher ed brothers and sisters," said Nixa Public Schools Dr. Stephen Kleinsmith, whose district hosted the governor on Thursday.
Kleinsmith said Greitens has "his political fingers on the right pulse and I think he's gonna slowly but surely take us in the right direction."
He said the additional K-12 dollars Greitens has proposed prevents Nixa from making any cuts in services or programs.
The other area cited by Greitens to receive more support in the next fiscal year is public safety.
"Our police officers they need life-saving equipment, like bulletproof vests and non-lethal weapons. And it's our job to make sure that they have the training, the resources and the support that they need to keep our families safe," he said.
He also mentioned funding a blue alert system, which is aimed at providing swift action against those that commit violence against a law enforcement officer.
Additionally, Greitens is pledging more money to fighting the opioid epidemic in the state, for cyber security and to assist Missourians with mental health disorders.
Details on the governor's $27.6 billion state budget can be found here.