0000017b-27e8-d2e5-a37b-7fffd9f70000On November 8, Missourians chose their next governor, determined races for U.S. congressional seats and several for the Missouri statehouse. In addition, voters decided among five proposed changes to the Missouri constitution.See the election results here, and view our coverage below on the local candidates and issues. Post election, we're continuing to add to our coverage with related content.
In Quest to "Restore Missouri's Spirit," Sen. Dixon Announces Run for Governor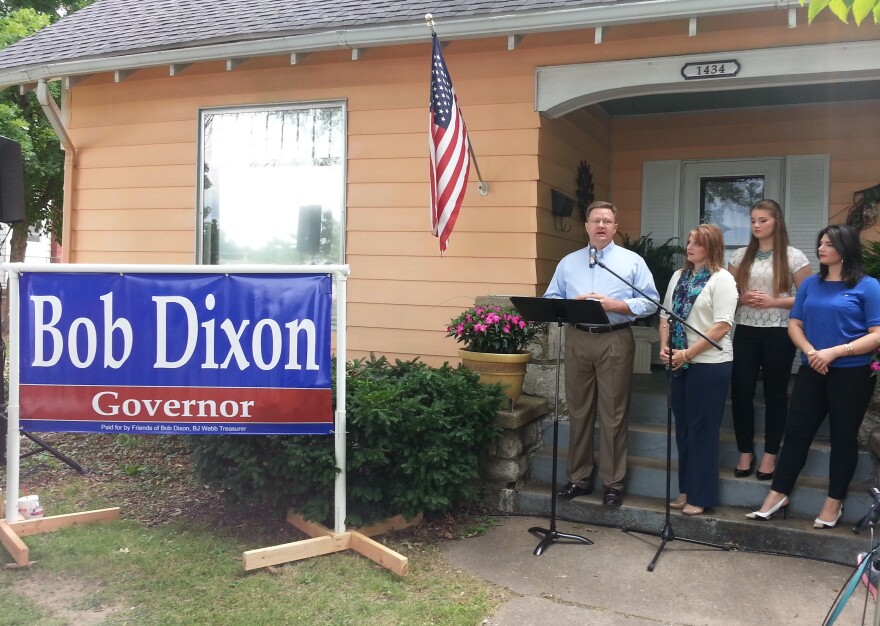 State Senator Bob Dixon says citizens need a leader who will provide "sensible, conservative solutions to Missouri families."
Before some 100 supporters Monday morning, Dixon used the front porch of his north Springfield home to formally announce his candidacy for the Republican nomination for Missouri governor. He said it's time to renew Missouri's spirit, adding there should be more pride in the political process and branches of government than exists today.
"We have all become weary of a political system that pits old against young, black against while, urban against rural, and traditional against modern." Dixon said.
He says Missouri needs a governor that will bring people together and lead the state back onto the right track.
"We need a governor who will lead and work with all members of the House and the Senate to get things done. Willing even to get out of the office and go door to door in the statehouse to do it. I will do that."
Dixon acknowledged that his campaign will rely on "a solid foundation of faith and family and a record of getting things done."
Dixon talked about the need for government to respect the abilities of capable parents to educate their children, but said he'd work to improve the environment for children who lack a healthy upbringing.
"Financial hardships for parents and yes, sometimes ill-conceived choices are a fact of life. When more and more children are not born into healthy, two-parent families, it puts pressure on the entire fabric of society. If elected I would do more to encourage fathers to take care of the children they bring into this world."
Dixon says it's not only parents who shape and prepare the next generation, which is why he supports sustaining strong schools with local control over curriculum and accountability to parents.
Elected to the state Senate in 2010, Dixon had previously served eight years in the House. He touted his sponsoring and passage of "Jessica's Law," which empowered local law enforcement agencies to investigate internet crimes involving children. He also noted his work to reform Missouri's tax code for the first time in 35 years.
He talked about eliminating bureaucratic red tape to allow small businesses and corporations to thrive and new innovation to spring up.
"Others talk about doing this, I've done it. I began this process three years ago when we passed by bill establishing the first ever top-to-bottom review of all state regulations. It's going on right now… And just last week my bill to eliminate numerous boards and commissions from state government became law. Been there, done that!"
Dixon says he's "100 percent pro-life," a strong supporter of the Second Amendment and traditional marriage.
He is scheduled to be in Jefferson City and Columbia Monday afternoon, the start of what Dixon calls a "front porch, kitchen table campaign."
"Those are the issues that matter to Missourians. They care about real jobs, real economic prosperity returning to their hometowns. And that's what we're gonna talk about in this campaign."
Dixon is the latest in a growing number of Republican candidates to formally announce a run for governor. The only Democrat currently in the race is Attorney General Chris Koster.