The Ozark Jubilee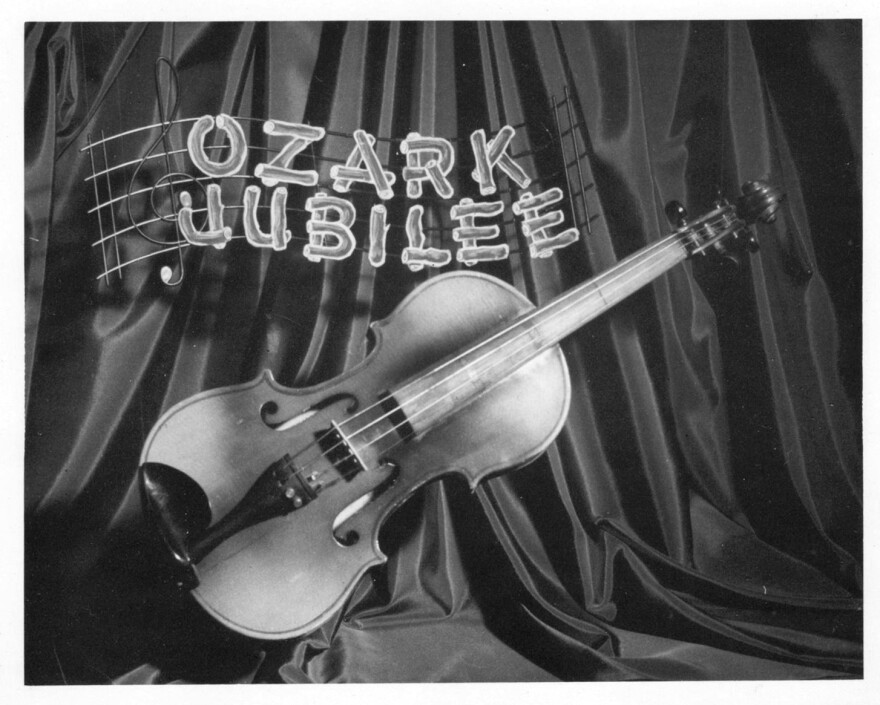 http://ozarkspub.vo.llnwd.net/o37/KSMU/audio/mp3/ozark-jubilee_24011.mp3
Springfield, Missouri doesn't exactly come to mind when you think about a "capital of country music" but there was a time when Springfield had a tremendous effect on the country music industry. For our ongoing local history series, Sense of Place, KSMU's Emma Wilson explores one television program that shaped tourism and the musical landscape of the Ozarks and beyond.
(Sound: Red Foley's voice speaking to a band that begins to play.)
That was country star Red Foley introducing a tune on the first regularly aired country music show on television, the Ozark Jubilee .Foley hosted this show for the length of its run on ABC, from 1955 through 1960, broadcasting from the Jewell Theater that used to be at the corner of Jefferson and McDaniel in Springfield. It went by several different names during those five years, but it continued to draw a huge national audience. Gary Ellison has worked in broadcasting in the Springfield area ever since he got his start at the Ozark Jubilee. He says the show was so popular because of the incredible talent that came into Springfield.
"Virtually every major star in country music, in that 5 year period starting in 1955, worked on the show and came through Springfield because it wastheir showcase for their talent. They all treated us kids like we were just as important as they were, and that made a tremendous impression on me."
Ellison was the caller for a square dancing group called the Wagon Wheelers.
(Sound: square dancing from the Jubilee.)
The last two years of the show, the high school-aged Wagon Wheelers would be on the show every other week. They alternated with another group, The Promenaders, who went to school at what was then Southwest Missouri State College.
"They always wanted to have some kind of square dancing on the program because Red Foley, who was the star of the show, really liked it and thought it added a lot of youth and vitality. So there was always a square dancing group on the show," Ellison says.
The Ozark Jubilee featured such stars as Johnny Cash and Patsy Cline. Country musicians came from all over the country to try and reach the Ozark Jubilee's 9 million viewers. Willie Nelson came to Springfield to audition for the Jubilee, but did not make it on to the show. He ended up working at Aunt Martha's Pancake house as a dishwasher until he could leave the area. Then 11-year old Brenda Lee got her start as a regular on the Jubilee after she wowed Foley with her powerful voice while he was making a promotional visit to Augusta, Georgia. She sang on the show that night and soon after her family moved to Springfield.
(sound: end of Rex Allen intro of Lee, then several seconds of her singing "Dynamite")
Even though Brenda Lee was hugely successful on the show, Nashville beckoned. And in 1957, she headed east to the "Music City". Another big Ozark Jubilee Star, Porter Wagoner also eventually sought his fame in Nashville. On top of two big stars leaving, Red Foley had been getting negative publicity relating to a tax evasion scandal and ABC cancelled the show in 1960.
Springfield had been on its way to being the new capital of country music and it was third only to New York and Hollywood for originating television programming. But it was never able to attract nearly as much tourism and money as the Music City. There were several smaller spin-offs and installments of the show following the cancellation. The Five Star Jubilee was broadcast on NBC from the Landers Theater for just one season.
Many of the cast and crew went on to develop their careers in Springfield and the surrounding areas, working at other shows, theaters, and destinations. The Herschend family hired the set designer from the Jubilee, Andy Miller, to design their new attraction surrounding Marvel Cave. According to Ellison, its new name, Silver Dollar City, came from yet another Ozark Jubilee alum, Don Richardson, who came up with the idea to hand out change in silver dollars.
"All of the influx [of tourists] plus the live country music in Branson has a direct tie back to the Jubilee, and it's still going, now some 50 years later. And I think that's a legacy people don't realize, but it's true."
(sound: Foley briefly introducing Chet Atkins, who plays guitar instrumental. Fades under voice to end the story.)
While Springfield didn't exactly develop into the "country music capital of the world," The Ozark jubilee had a significant impact on tourism and the economy in ways that are still evident today.
For KSMU's Sense of place, I'm Emma Wilson.