Springfield Bicycle Tours: A Ride through Springfield's Past, Present & Future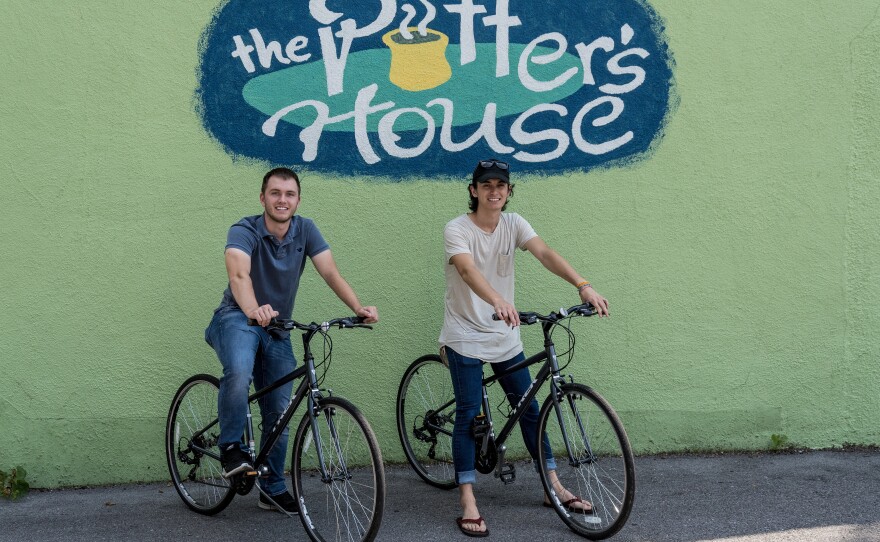 Jared Danielson (Left) and Daniel Meade are tour guides with Springfield Bicycle Tours. The Homeland Tour starts and ends at Potter's House.
Ryan Welch
Springfield Bike Tours offers 11 brand new Trek bikes for rental.
Ryan Welch
Did you know that Park Central Square was the scene of one of the nation's first Wild West shootouts? Or ever wonder why Springfield is named the birthplace of Route 66? A new business offers history lessons while pedalling through the city.
Springfield Bicycle Tours opened April 1, with the goal of providing people a great way to get some exercise, as well as enjoy the city's various landmarks.
"We will actually be heading down this road next, and that's actually old Route 66, so that is pretty cool."
I joined Jared Danielson, the head guide at Springfield Bicycle Tours, as he took me and four others on the Homeland tour, one of its more popular routes. Stops include Missouri State University, Park Central Square and Jordan Valley Park.
Rushing water from a limestone fountain greets us as we enter the square. Danielson says, the site played host to a one-on-one quick draw duel in 1865 between Wild Bill Hickok and Davis Tutt. He then turns his attention to the Heer's Building.
"It used to be the biggest, grossing business downtown from 1870 until 1992 as a department store," Danielson says.
We then rode east along St. Louis Street, past the Gillioz Theatre, to Jordan Valley Park. It's a warm Sunday, and children are playing in the park's fountain. It's here we learned that Springfield was where the number "66" was born, and passed along via telegram from the city before approved by federal officials.
"Some other names for Route 66 are: the Main Street of America and the Mother Road. It actually runs from Chicago to Sana Monica California," Danielson explained.
Since opening in April, Springfield Bicycle Tours has guided roughly 50 people around town, either those from the city or just visiting.
"Since this is a brand new company, like I said back on April 1. I think that is pretty amazing honestly. You could not ask for more, when you don't know what to expect. Because there are no other companies like this in Springfield, so he [the owner] didn't really know what the numbers would be estimated, so it's pretty great," Danielson says.
The business offers six different tours, ranging from four miles to 15. Some will chauffer you past historic venues while others will take you along popular trails. They also run a specialty tour on the first Saturday of each month that stops at several coffee shops.
Springfield resident Scott Jones was among today's tour participants.
"We didn't really know about it, but it was good, it has multiple different types of tours so we are thinking about our next one," said Jones.
Hilary Pennarts, also of Springfield, says she plans to ride again.
"Yeah, it was fantastic; I don't think that many people know about this so I think that it would be cool to take a group of my friends on a tour."
Springfield Bicycle Tours offers 11 brand new Trek bikes for rental. However, cyclists are welcome to bring their own.
Tours occur Saturdays and Sundays at 8 a.m. and 11 a.m. You can book anytime online at www.springfieldbicycletours.com or call or text 417-421-8313.