At This 'Farm' In Nebraska, Creativity Grows Amid The Cornfields
In a huge barn that's actually parts of many old barns that have been patched together over the years, Ed Dadey looks like a farmer. He's tall, slender and soft-spoken. In fact, he *was* a farmer until he realized he wasn't very good at it. That was a turning point.
"One day I realized I was not going anywhere in the world, so I thought, well, let's reverse this," said Dadey. "Let's bring the world here. So that's what I sort of started. That became the motivation, to bring people from other places to Nebraska."
Dadey, who's 70, actually has an art degree. 24-years ago, he thought he'd try to combine his family farm and his knowledge of art into a unique artist residency program.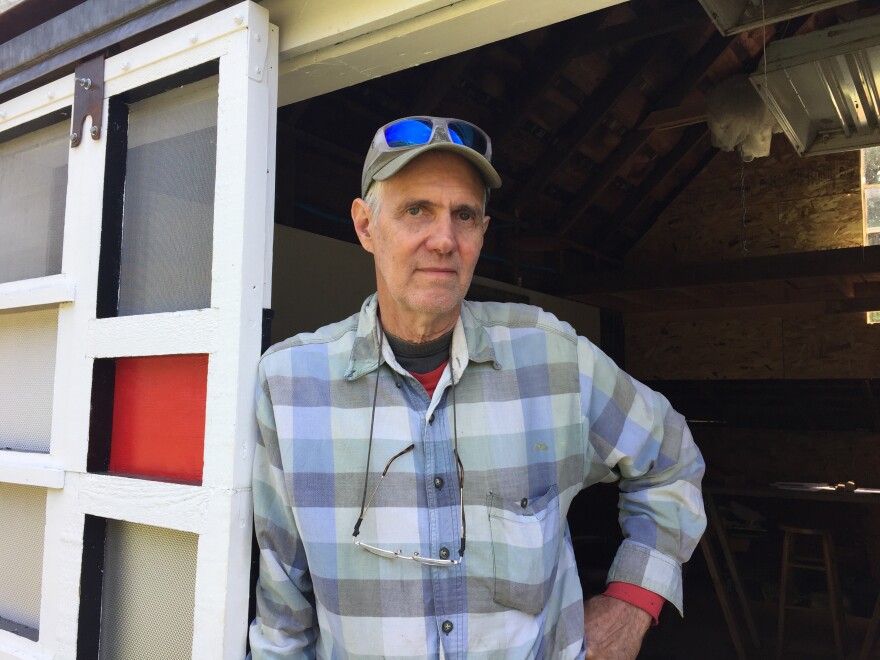 "My original vision of this was that maybe 30-40 years from now I might have five or six people show up. I've got 80 this year. I get e-mails all the time, has anybody left? Is there room for me yet? No, no. It's packed."
Art Farm isn't easy to find and when you get here, you probably won't be impressed at first. Dadey doesn't get a lot of unexpected visitors and there isn't a sign out front, just a couple of mailboxes. Weathered buildings are hidden by trees and scattered across the property. There are piles of wood, metal, old vehicles and art projects from the past everywhere. It's the spirit of the place that draws artists from all over, including Evan Smith, who's a writer, poet and teacher from Brooklyn.
"I think it's the space. It's also the kind of imperfect nature of the space. You'll notice everything is an eighth of an inch off a little bit," says Smith.
There aren't many rules at Art Farm, but part of the residency is work. Artists put in between 12 and 20 hours of manual labor each week. Otherwise, everything else is free. Smith is building a frame for a new shower in the barn.
"It's a little more rustic than other artist residencies so the kind of person that thrives here tends to be mellow and interested in getting out of whatever patterns they're in in their life and coming somewhere where you can do physical work and work on your own art, whatever that may be."
26-year-old Effie Kong came out to the Art Farm to write. A Boston native, Kong sits on a worn couch in a 100-year-old farm house. She's sharing the home with three other artists. There's nothing fancy about the space, but that's okay with her.
"The creative process isn't a pristine process. It's very messy. It's very confusing and metaphorically, it looks like this house. So being here, it makes me feel like I can be experimental. I don't have to be perfect on the first draft. I can be messy and confused and rickety," she says.
Like many of the other artists here, Kong is searching for more than just a better way to write. She's here to find her creative spirit.
"I think I rediscovered that magic that happens when you're out there and no one is around and it's just you and the corn slowly growing and the stars. That's something that's incredible I think that's being rekindled in me," Kong says.
Michael Larson is proud of the studio he works in, named after the one-room school house it once served as. Larson is a sculptor from Lincoln and cleaned out the space when he arrived at Art Farm. He's here for inspiration and a change of scenery – and to learn from Ed Dadey.
"He comes up to me at one point and I'm doing something really quick and I'm just ripping through it and he says something like, "Michael, at Art Farm, time is not money." Which is way different. It was kind of a nice moment for me to have that realization that I don't need to do stuff incredibly fast," Larson says.
While resident artists work on a roof repair, Dadey has time to reflect. He thinks he's the lucky one.
"All these artists make you feel like 25. It very much keeps you young in that sense, mentally and physically. It revives those things in you that you thought may have been gone," Dadey says.
He doesn't have plans to slow down anytime soon. For now, the community he's built in the middle of a cornfield in central Nebraska will continue to produce inspiration for artists who say Art Farm has changed their lives.
This story is part of Artland, a public-radio collaboration reporting on creative efforts that build community in unexpected places throughout the Midwest.