Homeless Army Veteran Monte Stetler's Journey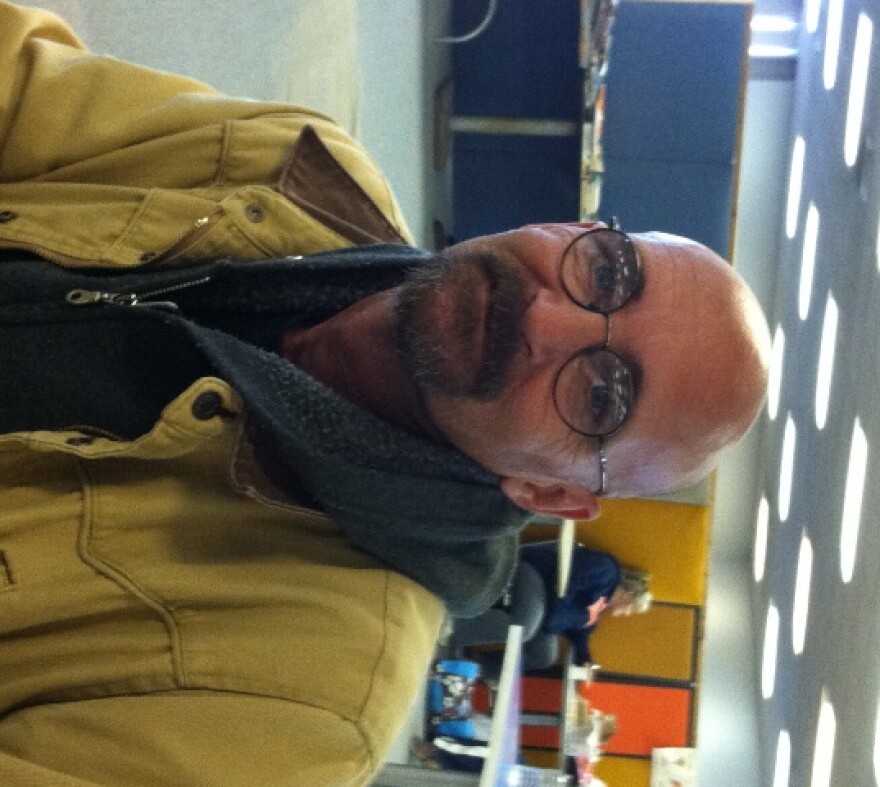 http://ozarkspub.vo.llnwd.net/o37/KSMU/audio/mp3/sense-community-homelessness-ozarks_56956.mp3
"A lot of people who meet me on the street, or in a business don't know I'm homeless cause I don't act it, I don't look it, and they'll ask me and I'll say I'm camping."
Meet Monte Stetler, a 47 year old Ohio native and Army Veteran who, for the past 3 years, has been "camping" somewhere in Springfield. "…in a tent, I've been staying in a tent, or when it's really cold, they have the cold weather shelter open."
Mike Smith: "How do you find in the city, a place to put a tent?"
Monte Stetler: "Very carefully. You look for avenues in and out that hardly anyone's been around it, or been there previous times."
Michelle Garand is Housing Director with the Community Partnership of the Ozarks, which partners with governmental, religious, charitable and civic groups to provide housing, shelter and services to homeless families and individuals: "It is surprising everywhere they say there are camps. Really any wooded area could be a camp. The services offered to the homeless are in the center city area, so if an individual is dependent on Victory Mission Cooks Kettle for an evening meal, they do a lot of walking, and in order to reduce the amount of walking that has to be done during the day, you're going to want to camp close by."
Monte Stetler has a reputation among homeless services providers and on the streets too, as "one of the good guys", and as a passionate advocate for homeless Veterans. I met up with Monte at the Veteran's Coming Home Center, operated on North Jefferson by the New Life Evangelistic Center. It's a daytime only homeless outreach facility offering individuals a place to rest, eat, do laundry, take a shower and get clean clothes too. A typical day for Monte starts off in his camp somewhere in central Springfield and then he'll make his way to the Veterans Coming Home Center. "We usually get up and if we get a fire going, we'll make a little coffee. Then I come here around 8am. Then some of the guys, if they stayed up all night walking around town because they don't have a place to sleep, they come in here a have a rest area where they can sleep from 8-3. Social workers come here from Burrell Services, we have a Veterans Representative here once a month. Every 2 months we have a disabilities claim officer coming up from Mt. Vernon. It's turning around some. We have a lot more people coming in to help."
According to Michelle Garand of the CPO, more help is on the way for homeless families and individuals in our area. CPO is partnering with the City of Springfield and other organizations to open the Springfield Affordable Housing Center. "As of July 1, that's when we will have our big launch of this new centrally located service center, and that will be a location where individuals can seek services from numerous housing and homeless prevention services providers. So we will be able to offer residents centralized assessment services through one door, but other partners include the Veterans Administration, the Housing Authority of Springfield, and those type of agencies."
The CPO conducts a homeless count within its service area of Greene, Christian and Webster Counties, twice a year. The next count is scheduled for early August. The last was January 31st, and saw over 660 homeless individuals counted. One thing Michelle Garand and Monte Stetler can agree on, is homelessness can happen to anyone, and it can happen quickly.
Monte Stetler: "Watch out for your internet dating, cause that's how I ended up homeless. I moved out here to Branson from Colorado July 3rd2010. 8 days later, she decided she didn't love me and told me to get out. But she was good enough to deliver me to Victory Mission here in Springfield."
Michelle Garand: "We've heard for years that everyone is one or two paychecks away from a dire financial crisis. I've seen that a thousand times. Weather it's a divorce, health crisis, anything. And then coming back up, it's a challenge. We've all got to be able to pitch in and help individuals where they are, so they can get to where they want to be in the future."
For information on the Community Partnership of ths Ozarks, commpartnership.org
For the Sense of Community Series on KSMU and ksmu.org, I'm Mike Smith.